by Ken, Principal, Shark Fin
AirBNB as you know is a home sharing website and mobile phone app which allows you to book or set up a fairly instant Bed 'N Breakfast. (If you get lost in the rabbit hole of the wikipedia page link, no worries, just hit the back button.) You can see our Oregon AirBNB at the top of this page – it's a custom designed luxe Lindal Cedar Home nestled in a golf-course-lake-and-forest resort.
Since I hosted the above AirBNB listing for around a year and reached "Superhost" status, I can claim to know what I'm talking about. An AirBNB Superhost has a verified level of expertise in setting up and maintaining a better than usual AirBNB listing. It's not all unicorns and s'mores, but as you optimize and fine-tune your AirBNB rental, it generally can be… especially if you're nearby / on-site to casually supervise!
Your "AirBNB listing" can be…
a cave
van, RV, or camping trailer
double wide mobile home
live/work loft
condo complex*
townhouse*
apartment**
single family residence of any size
a yurt or tent
As you can imagine, AirBNBs are set up quickly and easily!
Any housing type
Any location
Any climate
All you have to do is… visit airbnb.com.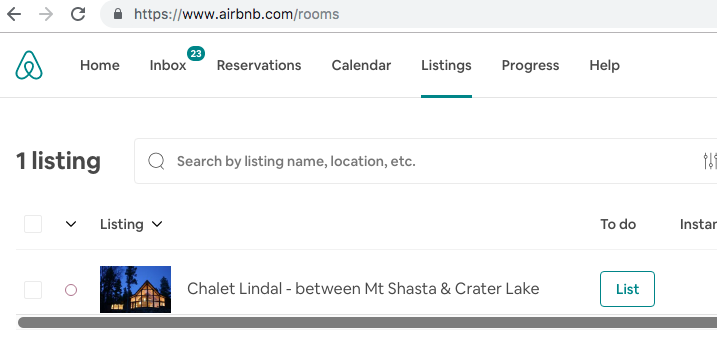 Beyond that, the essential steps generally include:
Sign up for an AirBNB account
Click "Host" in the main menu on a computer, or "Switch to Hosting" in the mobile app
Add your first house rental listing
Take photos of your furnished, clean AirBNB and upload them to your listing (I highly suggest you pay for professional photos to increase your listing's appeal, and your monthly passive cash flow income from your BNB!) You can get away with DIY photos if your listing is visually very appealing already (lucky for me) or if you have amazing camera skills (definitely not me yet)

Add descriptions, available amenities, and house rules to your AirBNB listing

Add your bank account and tax ID information
Set your "hotel" schedule – the days and weeks when you will make your house rentable on AirBNB — and turn your listing on LIVE! (But if you're responsible, and it's probably the best idea, you ought to wait until finishing step 11 before going LIVE.) At the beginning, don't turn on "Instant Book" because you'll probably want to screen out clients with NO reviews and NO photo because they may be shady/up to no good
Create a short "FAQ" (list of Frequent Q&A that most guests will ask you for: how to access and enter your house, wifi password, when to check in/out, emergency contact info, etc)
Create both a digital PDF/Word version of your House Manual / FAQ that you can copy/paste into messages with guests, as well as a physical, printed and laminated binder with a House Amenities & Rules Manual, as well as Local Travel Guide curated by you
Determine who will clean the house and launder/change bed sheets after each guest stay — you or a professional cleaner?
Finish furnishing your AirBNB property with appealing furniture, creature comforts, and even bicycles — as well as choose what tea/coffee/soap/shampoo/snacks to provide your guests! We like…

Later on you can upgrade your AirBNB property by adding a self-service PIN pad door lock to your property's guest entry door so that you don't need to manually hand off the key. Until you upgrade to a PIN pad door lock, you can use a cheap ~$20 combo lock keyholder for your house key, or even worse, place the key under a doormat or in a "fake dog doodoo" or "fake rock" device — or other crevice. Maybe not under the doormat. 🙂

To be next-level fancy and secure, you can get a Wi-Fi enabled door-lock that generates a new PIN each time for every AirBNB guest, and integrates with AirBNB's backend for fully automated, fully passive access management.

This might actually be the first rule. Before following the 12 steps above, you'll want to verify your city and county's AirBNB rental restrictions and rules and tax/fee requirements, if any. Simply Google "AirBNB regulations for my_city_here," visit "Local Laws" under AirBNB.com's hosting section, or check with other local AirBNB hosts!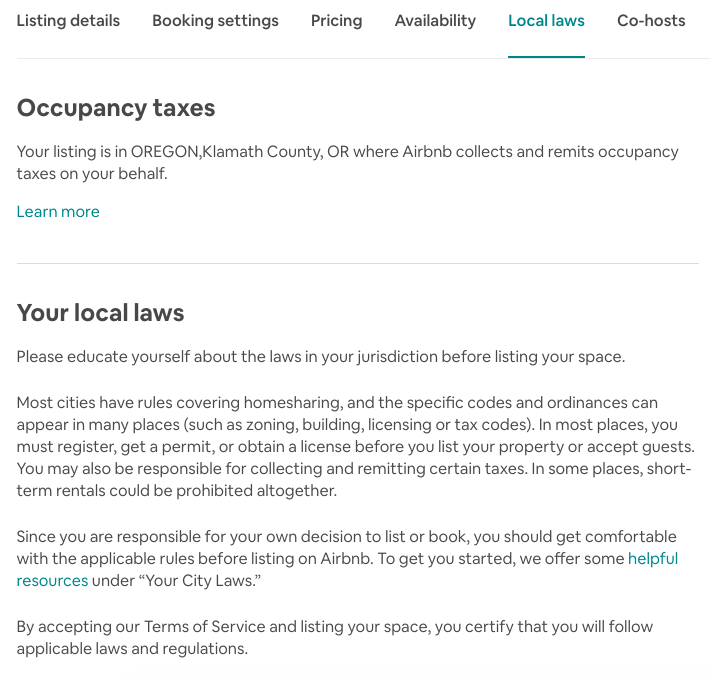 Finally, note that AirBNB is just ONE effective strategy to maximize cash flow with your current property/ properties. You can also operate short-term furnished rentals with corporate, nursing, and other clients — as well as host traditional longer-term renters. 
Now that you have read the essential 13 steps to setting up an AirBNB room in your house, here are 66.7 million more pages (as of June 2019) of AirBNB suggestions, AirBNB quick tips, and ideal AirBNB setup photos you can benefit from.
*You must check your Condo and Townhouse HOA rules and regulations regarding AirBNB rentals.
**Same for apartments, but that hasn't stopped many people.